Connect with your social network account
Hello
Not so long ago History Channel had a TV series called "Alone". Contest show, where participants were allowed to take 10 items with them and then dropped alone in the wild, the winner would be the one who lasted the longest.
This is purely a brain teaser fantasy set up, but what 10 things would you bring in a survival situation?
---
---
Here is my 10 things. When I made my list later I found that it is very similar to the season winner Zachary Fowler. Check out his list.
https://www.youtube.com/watch?v=QHfLI1DK7cs
1) Knife
I would take ether a Victorinox Outrider
Or a Ranger
In my opinion knife has to be able to do following things.
Cut and sharpen a stick, that is enough to build a shelter or a fire.
Assist in cooking, peel a potato or a carrot, open a can, clean fish and cut meat.
Grooming and first aid. Pull out a splinter or most important cut finger nails. Anybody who spent more than a couple weeks traveling knows how troublesome long nails become. Even worse if they break.
Victorinox knife able to cover most of the needs.
2) Fire
Ferro rod in the show contestants were not allowed to bring matches or lighters, but good ferro rod is just as good.
3)Axe
My Usual tool is a Fiskars medium axe, but I always take a shovel as well. I take the folding Free Solder one.
In this case to save up on items, I would bring a shovel that can act as an axe as well.
Free solder kit is the best, but it has a lot more then just an axe. In case of smaller utilitarian approach I would choose ether
Cold steel
Simple utilitarian and tough. Has great balance that allows to chop wood.
Or a Chinese military shovel
There are lots of variants to choose.
4) Saw
While having axe can be enough for long term stay good saw adds comfort.
Folding long saw
5) Sleeping bag
My choice is Alexika Siberia
I am a bit limited in my choices here, not many manufacturers make bags for 2m tall people. Alexika does, and Siberia is the most comfortable and warmest bag out there.
6)Tarp
Just normal tarp, to use as cover or as underlay.
7) Cooking
Stainless steel pot with lid, good if the lid could double up as a pan
It was surprising for me to see that a lot of contestants choose a pot with a handle, but not with hanging loop. In my experience it is always better to hang a pot over a fire than just put it in to the fire and then try to grab a hot handle.
8)Fishing kit
Some fishing hooks and 100m of fishing line. The hooks I take any medium size ones. The fishing line I would take dyeema, just because it is very string and can be used in different ways that just for fishing. Like putting a shelter together or making a bow.
9)Weapon
Previously my choice was a slingshot.
something like this
Slingshot is very versatile, it can shoot any stone you can pick up and stun small gain. It can shoot arrows for bigger gain and combined with fishing line can be used for fishing. Also slingshot can be shot crouching or even lying down.
However as I found out they are illegal here in Australia, so my second choice would be a bow and arrows.
10) Food
Lots of people chose to bring some kind of 5 pounds food pack. I would choose a spice rack.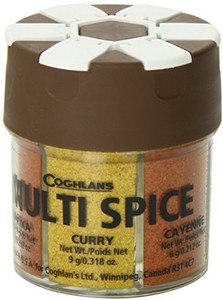 There are lots of things you can eat in the wild, the problem is that most of it tastes like crap. This can be improved with spices.
Dandelions, nettles, even worms can be eaten wit the right spice.
This is my list, what would be yours?
---
---
1) gun & ammo 2) Knapsack 3) water bottle 4) hunting knife 5) blanket 6) tomahawk 7) good medical kit 8) length of rope 9) oil cloth shelter 10) cooking kettle.
Keith.
Two roads diverged in a wood, and I took the one less travelled by,
and that has made all the difference.
Robert Frost.
http://woodsrunnersdiary.blogspot.com.au/
---
---
Posts in topic: 1
Posts: 50
Joined: Sat Jun 23, 2018 6:33 pm
I echo Keith here
---
---
RockyGully

wrote:

↑

Mon Sep 03, 2018 12:36 pm

I echo Keith here
Keith.
Two roads diverged in a wood, and I took the one less travelled by,
and that has made all the difference.
Robert Frost.
http://woodsrunnersdiary.blogspot.com.au/
---
---
Posts in topic: 1
Posts: 55
Joined: Sat Nov 24, 2018 4:02 pm
Little Gerber pocket knife, 9v torch (rechargeable) and solar charger, .22WMR bolt action with spare mag and ammunition, my small first aid kit - includes snake bite kit and aspro, panadol, ibobrufen - change clothes and socks in plastic bag, some food, water bottles in holder with dixies in base, can opener/spoon, fishing kit (hand reel with push out centre which contains hooks, lures, trace line, puritabs, water proof matches, etc), Gerber full tang knife (Bear Grills one with has the flint, whistle on handle, and a sharpener on rear, later model). I have assumed these all go in/on a day pack. Reason for not selecting a shelter is, if I am not doing anything else, I am either in an urban area where shelter is available, or a rural setting, where shelter can be made (realistically I'd take a shelter, but you said 10).
---
---
Similar Topics

Replies
Views

Last post